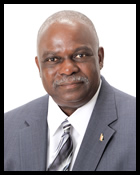 Willie Brown, Senate Past Chair
Willie Brown joined the University in 1992 as a programmer trainee in the Division of Information Technology. During his career, he has advanced to Director of User Services, Interim Director of Networking and Telecommunication, Director of Policy and Planning, and now serves as Director of Office Automation.
Mr. Brown has spent the majority of his career involved in the shared governance of the university. He has chaired the Senate Campus Affairs Committee, Senate Human Relations Committee, Senate Staff Affairs Committee, Council of University System Staff, and served as President of the UM Black Faculty and Staff Association.
In addition, he has served on the Senate Executive Committee, Senate Nominations Committee, President's Commission on Disability Issues, President's Commission on Ethnic Minority Issues, President's Distinguished Services Awards Committee, the Athletic Council, Senate Ad-Hoc Workgroup for the Site Selection Processes Committee, Campus Parking Advisory Committee, University System of Maryland Executive Director Selection Committee for the Universities at Shady Grove, University 5-year review of the Office of Information Technology, and the UM College Park - UM Baltimore Merger Study Workgroup. Mr. Brown has also participated in the Strategic Plan for the University System of Maryland and other policies that impact faculty, staff and students at the system level.