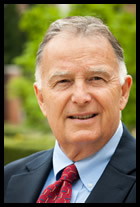 Donald Webster, Senate Past Chair
Donald Webster joined the University of Maryland in 1974 to develop extension education programs in Marine Science. His work with Chesapeake Bay issues led to a career path in developing commercial aquaculture including collaboration on projects for new species and production methods, which led to economic growth and innovation in the industry. He has been the author of book chapters, research reports and extension manuals and has organized many statewide, regional and national conferences. He recently served as editor for the Northeastern Regional Aquaculture Center, located at UMCP.
Webster has been a member of many state and national commissions and task forces and currently chairs the state's Aquaculture Coordinating Council, which recommends policy initiatives to the Governor and General Assembly. His work in aquaculture policy assisted in the revision of Maryland shellfish leasing program for the first time in over a century and he directs a project providing training for the industry, which has created economic growth and employment while aiding the environment.
As a lifelong diver and instructor, Webster has engaged in scientific diving operations locally and has served as Secretary to the UMCP Diving Control Board. He has served on the Faculty Affairs Committee and the Faculty Senate and has participated with his department and college on many committees including work on management, organizational, and promotion and tenure issues.