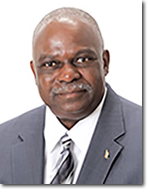 I was first exposed to the concept of "Shared Governance" at the university in 1990's when my Director asked me to start attending the President's Commission on Disability Issues (PCDI) meetings for her. I was impressed with the way the committee examined issues and made recommendations to the administration, of which many were acted upon. It was this experience that motivated me to run for a seat on the University Senate.

During my employment at the university, I have had the pleasure of serving on many committees as a Senator and hopefully helped influence the university in some positive manner. I have had the honor of serving on the Senate as a staff member, a few terms on the Senate Executive committee and have chaired both the Senate Staff Affairs committee and the Senate Human relations committee. Additionally, I've served on the Campus Affairs committee, Athletic Council, Council of University System Staff, and the Senate Nominations committee.

The pleasure and honor of serving on these committees has allowed me to actively participate in the review of such issues as: campus safety, academic dishonesty, campus based privileges for partners of faculty/staff/ graduate assistants, Board of Regents awards, review of college plan of organizations, tuition remission benefit, approval of new courses and degrees, etc. One of the greatest accomplishments that benefit staff was the Senate's influence in keeping tuition remission as a benefit when the state legislature wanted to remove it for financial reasons. The Senate made their opinion known to the President, and the President decided that UM would continue offering the benefit regardless of the states' decision. This is a great benefit for faculty and staff alike.

My time in the Senate has allowed me to grow a greater appreciation for the inner workings of academia (academics, administration, staff, and governance) and other issues that impact the university community on a daily basis. I highly recommend that all staff members serve a term on the Senate so that they too can experience for themselves the difference we make to the community by being an active participant in the Shared Governance of the university.
Willie Brown