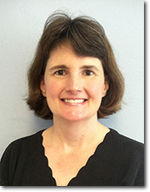 I have been one of three faculty members serving on the Senate Staff Affairs Committee for a majority of my time at the University, first being appointed to the Committee in 2003, and then being reappointed in 2009. During my time on Staff Affairs, I have gained a greater understanding of governance at the University and have seen several key issues for staff raised and addressed. One tangible example of the impact the committee has had was its role in recommending the establishment of a family care resource and referral service at the University - an important service from which staff, faculty and students may all benefit.

In addition, one of the most eye-opening and humbling experiences for me as a member of the Staff Affairs Committee is taking part in the annual Board of Regents Staff Awards nominations process, which the committee oversees. Through the Board of Regents Staff Awards, one truly gets a glimpse of the wonderful contributions made by staff at all levels throughout the campus. It is particularly gratifying when an individual from campus is selected at the system level for this prestigious award, and knowing the Staff Affairs Committee had a small role in that individual being acknowledged for their hard work and efforts to make the University a better place.

Staff Affairs Committee chairs and members may come and go, but year in and year out I have found the committee to be one of the most collegial and engaged groups that I have had the opportunity to work with on campus. I look forward to continuing my service with this group and the Senate in the future.
Maggie Saponaro